Administrator
Staff member
There is an active fire onboard the
https://www.cruisingearth.com/ship-tracker/carnival-cruise-lines/carnival-freedom/']Carnival
Freedom currently docked in
https://www.cruisingearth.com/port-tracker/caribbean/grand-turk-turks-caicos/']Grand
Turk. Information being released is preliminary, at this time the visible fire is contained to the ship's funnel. Fire fighting operations are ongoing. No reports of any injuries at this time. Carnival Freedom is currently docked across the main pier from Mardi Gras on Grand Turk. Updates will be posted when available.
-----------------------------------------------------------------
Update: May, 26, 2022 8:45AM EDT - Statement From Carnival - "Carnival Freedom's emergency response team quickly activated and extinguished a fire inside the ship's funnel while the ship was in Grand Turk. All guests and crew are safe, and the ship's guests were cleared by local authorities to go ashore. We continue to assess the situation. Carnival Freedom left Port Canaveral on Monday on a five-day cruise."
-----------------------------------------------------------------
Update: May 26, 2022 5:00PM EDT - Statement From Carnival - "There are 2504 guests and 972 crew on board. Carnival Conquest's next cruise, departing May 27 from Miami has been cancelled and that ship will be deployed to Grand Turk to transport Freedom guests back to Port Canaveral. Carnival Conquest will arrive to Grand Turk on Saturday, May 28 and guests aboard Carnival Freedom will transfer to Carnival Conquest for the voyage back to Port Canaveral, arriving on Monday, May 30. Carnival Conquest will then return to Miami, and her May 30 departure will be shortened by one day, with guests embarking on May 31.
Once guests are transferred from Carnival Freedom, the ship will proceed to Freeport for a repair to the funnel. The May 28 departure of Carnival Freedom from Port Canaveral has been cancelled. Guests booked on the impacted sailings on Carnival Conquest and Carnival Freedom voyages have been notified of these changes.
Carnival apologized to all those guests who are impacted and offered special thanks to the crew who handled the situation on the ship effectively and according to safety protocols."
-------------------------------------------------------------------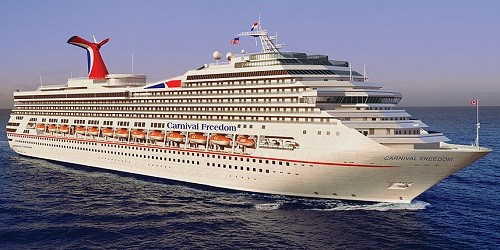 Track Carnival Freedom current location on our live cruise ship tracker. View the itinerary, recent track, speed, course, next port destination, arrival time and more.

www.cruisingearth.com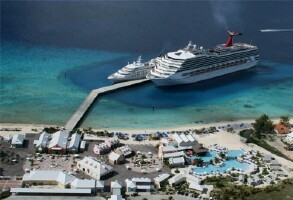 Grand Turk Cruise Center, Grand Turk, Turks & Caicos Islands Camera - Camera view looking West over the Grand Turk Cruise Center towards the cruise ship pier in Grand Turk, Turks & Caicos Islands.

www.cruisingearth.com