CGC Harriet Lane -
Military Ship Tracker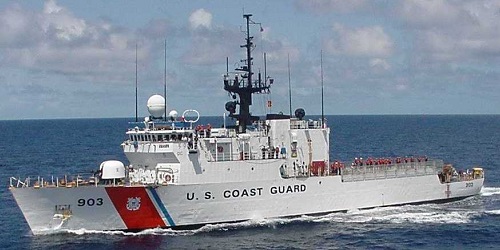 Military Ship Details & Statistics
Homeport:
NA
In Service:




Hull Number:




Category:




Complement:




Weight:

1984 / 39 years




WMEC-903




Med.End. Cutter




100




1,800 GT
Length:




Beam:




Draft:




Speed:




270.0 ft

38.0 ft

14.5 ft

20.5 knots

23.6 mph
Track CGC Harriet Lane's Current Position In This Live Military Ship Tracker
CGC Harriet Lane (WMEC-903) is a United States Coast Guard Famous Class Medium Endurance Cutter currently in active service for 39 years. View CGC Harriet Lane's current position, recent track, speed, course, next port destination, estimated time of arrival (ETA) and more are available in the medium endurance cutter tracker map below.
Track Another Ship
If you know another ship you want to track, enter the ship name or ship line name in the search box below. Then select the ship from the available search results.
Track Cruise Ships, Cruise Ferries, Research Ships, Military Ships and Famous Ships right here live on Cruising Earth!
Tracker Legend:
Cargo

Tanker

Cruise / Passenger

High Speed

Military / Special

Fishing

Pleasure

Navigation Aids