Icon of the Seas -
Cruise Ship Tracker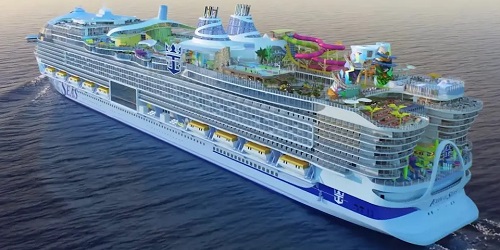 Cruise Ship Details & Statistics
Homeport:
Ft. Lauderdale, Florida
In Service:




Last Refurb:




Passengers:




Crew:




Weight:

2023




NA




7,600




2350




250,800 GT
Length:




Beam:




Draft:




Speed:




1,198.0 ft

213.0 ft

NA

ft

22.5 knots

25.9 mph
Track Icon of the Seas' Current Position In This Live Cruise Ship Tracker
Icon of the Seas' current position, recent track, speed, course, next port destination, estimated time of arrival (ETA) and more are available in the cruise ship tracker map below.
Icon of the Seas is a new or future cruise ship and has not been assigned an MMSI (Maritime Mobile Service Identity) number. The MMSI number is unique to each ship and is used to track all maritime vessels through the
AIS (Automatic Identification System)
as seen in the map below. Once an MMSI number has been assigned to Icon of the Seas and the ship is brought into service it will then be trackable, please check back later.
Track Another Ship
If you know another ship you want to track, enter the ship name or ship line name in the search box below. Then select the ship from the available search results.
Track Cruise Ships, Cruise Ferries, Research Ships, Military Ships and Famous Ships right here live on Cruising Earth!
Tracker Legend:
Cargo

Tanker

Cruise / Passenger

High Speed

Military / Special

Fishing

Pleasure

Navigation Aids