Carnival Cruise Lines - Steakhouse

Which Carnival Ships Have Steakhouses?
Carnival Breeze - Fahrenheit 555 Steakhouse
Carnival Celebration - Fahrenheit 555 Steakhouse (coming in 2022)
Carnival Conquest - The Point Steakhouse
Carnival Dream - The Chef's Art Steakhouse
Carnival Freedom - Sun King Steakhouse
Carnival Glory - Emerald Room Steakhouse
Carnival Horizon - Fahrenheit 555 Steakhouse
Carnival Legend - The Golden Fleece Steakhouse
Carnival Liberty - Harry's Steakhouse
Carnival Magic - Prime Steakhouse
Carnival Miracle - Nick and Nora's Steakhouse
Carnival Panorama - Fahrenheit 555 Steakhouse
Carnival Pride - David's Steakhouse
Carnival Radiance - Fahrenheit 555 Steakhouse
Carnival Spirit - Nouveau Steakhouse
Carnival Splendor - The Pinnacle Steakhouse
Carnival Sunshine - Fahrenheit 555 Steakhouse
Carnival Valor - Scarlett's Steakhouse
Carnival Vista - Fahrenheit 555 Steakhouse
Mardi Gras - Fahrenheit 555 Steakhouse
The Steakhouse is an alternative to eating in the Main Dining Room or the Lido Restaurant, open daily, 5:30pm-9:30pm. In order to best accommodate your party, Carnival strongly recommends making a reservation at least two weeks prior to your sail date. To secure your reservation prior to boarding goto the Carnival Funshops.
There is a fee of $38 per adult guest and $12.00 per child under 11 years of age. The fee includes an appetizer, entrée, dessert and the wait staffs' gratuity; additional gratuities are optional and may be extended in cash or to the guest's Sail & Sign Account, at the guest's discretion. Carnival has said that the wait staff gratuity portion of the the fee is currently "something less than 18%". The fee does not include any beverage that is normally ordered through the bar service such as wine, liquor, soda or bottled water. You may order additional appetizers for no charge, an additional entrée will cost you $28.
Carnival is currently offering a free bottle of wine per steakhouse reservation booked for the first night of the cruise. Since the first night of the cruise has generally been the slowest night fleetwide for the steakhouses they are offering this as an incentive to get guests to dine with them on that night. The only choice you have for the free wine bottle is from the two house wines - either Santa Carolina Chardonnay or Santa Carolina Merlot.
The Steakhouse Dress Code follows the Main Dining Room Dress Code specified for that evening on board; if the evening is specified as Cruise Casual, shorts are not permitted.
Steakhouse Menu
View / Download Steakhouse Menu
Steakhouse Locations
Select a steakhouse in the options below to view that steakhouse's location.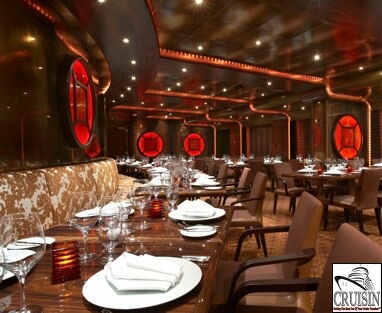 Page last updated:
Fri Mar 17, 2023