Administrator
Staff member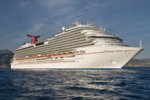 http://carnival-news.com/wp-content/uploads/2014/04/CarnivalDreamSea2.jpg
"]
Earlier today, while en route from Grand Cayman to Jamaica during a seven-day Caribbean cruise, shipboard personnel aboard the Carnival Dream observed a small boat in distress.
In keeping with a longtime tradition of aiding mariners in distress, Carnival Dream altered its course to render assistance to the small craft. Thirty-nine individuals – 34 adult males and five adult females – were brought on board, evaluated by the ship's medical team, and provided with food, water and fresh clothing.
All appropriate authorities, including the United States Coast Guard, were notified.
We are extremely proud of the officers and crew on the Carnival Dream for keeping a sharp lookout on the bridge and coming to rescue of this group who had been adrift at sea for several days, as well as providing them with care and assistance on board our ship.
Carnival Dream is currently on a seven-day Caribbean cruise that departed New Orleans on Sunday, as part of its year-round schedule of week-long Caribbean voyages from that port.