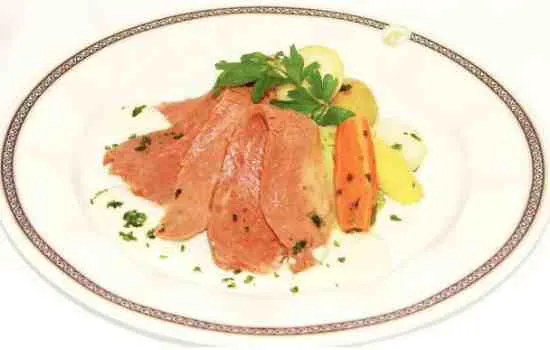 Holland America Line's
Corned Beef and Cabbage Recipe
Recipe Cuisine: Irish
Recipe Category: Entrées
Yield: 12 Servings
Prep Time = 0:30Cook Time = 3:00Total Time = 3:30
Ingredients:
5 lbs Corned Beef Brisket

4 quarts Beef Stock

1.5 lbs Red Skin Potatoes cut in half

0.75 lbs Green Cabbage Braised

12 Peeled Carrots (0.75 lbs)

12 Peeled White Turnips (0.75 lbs)

12 Peeled Yellow Turnips (0.75 lbs)

0.75 lbs Green beans



Bouqet Garni (bundled in a piece of cheesecloth and tied with string):


1 bay leaf

2 sprigs fresh thyme

5 fresh parsley stems

4 star anise

10 black peppercorns


Horseradish Sauce:


Heavy Cream — 360 ml

2.5 cups Béchamel Sauce

3 ounces Grated Horseradish

Salt to taste

Black pepper to taste
Instructions:
Place the beef and Bouqet Garni in the pot and cover with the cold beef stock. Bring to a slow simmer for at least 3 hours until beef is fork tender

Save cooking liquid, add salt and cook all vegetables in the cooking liquid

SAUCE: Add cream to pot and reduce by half, combine horseradish, cream and béchamel together, season with salt and pepper.

Clean brisket of all fat, slice thinly and present as in photo with potatoes, cabbage, green beans and 1 each of carrot, white turnip and yellow turnip.
Nutrition Facts:
Video:
Corned Beef and Cabbage Video
A video is currently not available for this recipe.
Date Created:
2020-09-05
Last Modified:
2021-12-13
This recipe provided to you by:
www.cruisingearth.com
Holland America Food Recipes
Holland America Beverage Recipes
Other Cruise Line Recipes