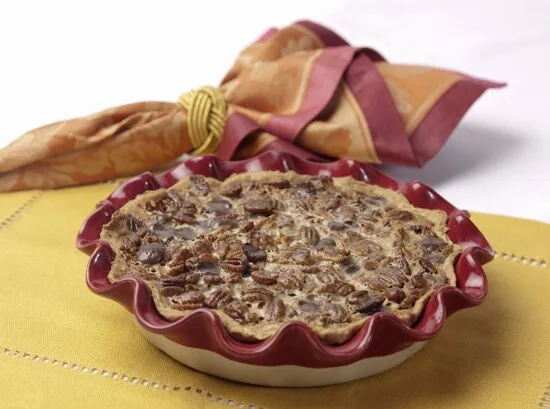 Holland America Line's
Chocolate Pecan Pie Recipe
Recipe Cuisine: American
Recipe Category: Desserts
Yield: 8 Servings
Prep Time = 1:20Cook Time = 1:25Total Time = 2:45
Ingredients:
Pie Crust:

1.5 cups all-purpose flour

1 teaspoon sugar

1/2 teaspoon salt

6 tablespoons unsalted butter, chilled and cut into pieces

3 tablespoons vegetable shortening, chilled and cut into pieces

A few ice cubes


Filling:

2 cups pecan halves

7 ounces bittersweet (not unsweetened) chocolate, chopped into 1/2-inch pieces

3 tablespoons all-purpose flour

12 tablespoons (1.5 sticks) unsalted butter, softened

1 cup packed dark brown sugar

6 large eggs, at room temperature

3/4 cup light corn syrup

1/4 cup molasses

1.5 tablespoons Cointreau

2 1/4 teaspoons vanilla extract

1/2 teaspoon salt

Lightly sweetened whipped cream, for serving
Instructions:
Pie Crust:

In a large bowl, whisk together the flour, sugar and salt. Using your fingertips, a pastry blender, or two knives, work the butter and shortening in to the flour until the mixture resembles coarse meal. (Alternatively, combine the ingredients in a food processor, using short pulses.)

In a small bowl, combine 1/4 cup water with a few cubes of ice. Using a fork, stir the water into the flour mixture 1 tablespoon at a time, using only as much as needed to gather the mixture into a soft ball. Pat the dough into a disk, cover it with plastic wrap, and refrigerate for at least 1 hour or up to 3 days.

Heat the oven to 400 degrees F. On a lightly floured surface, roll out the dough into a round about 1/8 inch thick. Drape the dough over a rolling pin and fit it into a 10-inch pie pan. Fold the edge under and crimp. Place the pie shell in the freezer for 20 minutes.

Prick the dough all over with the tines of a fork to prevent bubbling during baking. Place a piece of foil over it and fill it with pie weights or dried beans. Place the pie shell in the oven and bake for 10 to 12 minutes. Remove the foil and weights and continue baking for an additional 8 to 10 minutes. Place it on a wire rack and let it cool completely.


Filling:

Reduce the oven to 350 degrees F. Spread the pecans on a baking sheet and bake for 7 to 10 minutes, until fragrant. Let cool, roughly chop, and place them in a medium mixing bowl. Add the chopped chocolate and flour, and stir to mix. Set aside.

In a large mixing bowl, beat the butter and brown sugar with an electric mixer until light and fluffy. Gradually beat in the eggs, one at a time, stopping two or three times to scrape down the sides of the bowl. Beat in the corn syrup, molasses, Cointreau, vanilla, and salt until fully incorporated.

Add the chocolate mixture to the egg mixture and stir until well combined. Pour the filling into the prepared pie shell and bake for 1 hour, or until lightly set in the center. Transfer the pie to a wire rack and let cool completely before serving.

NOTE: This pie can be kept in the refrigerator, covered in plastic wrap, for up to one day. Serve it at room temperature, topped with lightly sweetened whipped cream.
Nutrition Facts:
Video:
Chocolate Pecan Pie Video
A video is currently not available for this recipe.
Date Created:
2020-09-06
Last Modified:
2021-12-13
This recipe provided to you by:
www.cruisingearth.com
Holland America Food Recipes
Holland America Beverage Recipes
Other Cruise Line Recipes