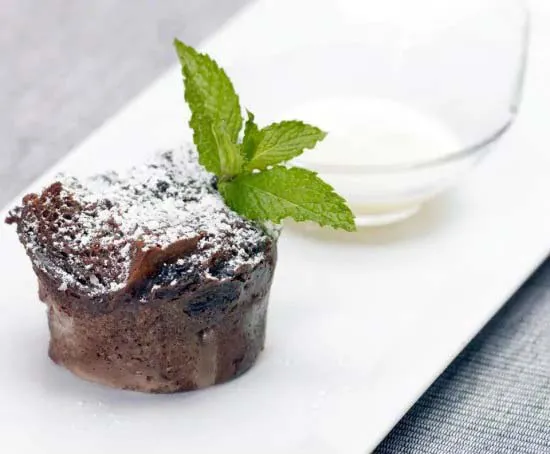 Holland America Line's
Chocolate and Raisin Bread Pudding with Whiskey Sauce Recipe
Recipe Cuisine: British
Recipe Category: Desserts
Yield: 12 Servings
Prep Time = 0:30Cook Time = 0:45Total Time = 1:15
Ingredients:
1/2 cup golden raisins

2 tablespoons whiskey (for soaking the raisins; optional)

1 pound loaf day-old Italian bread, cut into 1 inch cubes

1/2 cup semisweet chocolate chips

6 large eggs

1 quart whole milk

1 cup sugar

3 tablespoons unsweetened cocoa powder, sifted

1.5 teaspoons vanilla

1/4 teaspoon salt



Whiskey Sauce:


1.5 cups heavy cream

2 teaspoons cornstarch

1 tablespoons cold water

1/3 cup sugar

2 tablespoons whiskey, such as Jack Daniels, Jameson, or Old Bushmills
Instructions:
Heat the oven to 350 degrees F. Grease a 12-cup muffin tin or a 13-by-9-by-2-inch baking pan to make one. Combine the raisins and whiskey in a small bowl; let sit for at least 15 minutes.

Bring a large kettle of water to a boil. Drain the raisins and discard the liquid. Divide the bread, chocolate chips, and drained raisins among the muffin cups (or place in the baking pan).

In a large bowl, combine the eggs, milk, sugar, cocoa powder, vanilla, and salt. Whisk to blend thoroughly.

Pour the egg mixture over the bread in each of the muffin cups (or in the baking pan) and place the pan in a large roasting pan.

Transfer the roasting pan to the oven and add enough boiling water to the large pan to reach halfway up the side of the muffin or making pan.

Bake the puddings for 30 to 40 minutes (45 minutes to one hour if you make one), or until puffed and just set.

Carefully remove the roasting pan from the oven and remove the muffin (or baking) pan inside it.

Let the bread pudding cool until warm and serve, unmolded, with the whiskey sauce or the whipped cream and vanilla ice cream (or serve the single bread pudding in the baking pan with the accompaniments).
Nutrition Facts:
Video:
Chocolate and Raisin Bread Pudding with Whiskey Sauce Video
A video is currently not available for this recipe.
Date Created:
2020-09-05
Last Modified:
2021-12-13
This recipe provided to you by:
www.cruisingearth.com
Holland America Food Recipes
Holland America Beverage Recipes
Other Cruise Line Recipes