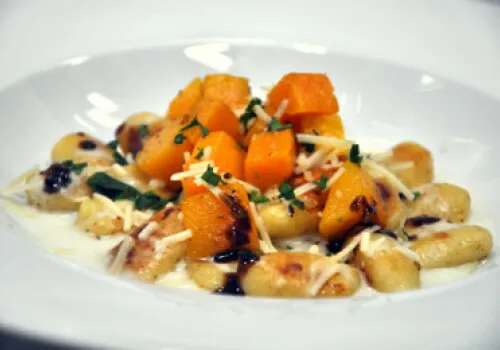 Holland America Line's
Brown Butter Gnocchi With Roasted Squash Recipe
Recipe Cuisine: French
Recipe Category: Entrées
Yield: 10 Servings
Prep Time = 0:30Cook Time = 1:00Total Time = 1:30
Ingredients:
3 lbs Gnocci, frozen

3 oz. Butter, soft room temp

6 oz. Butter, clarified

1 Tbsp. Sage, chiffonade

4 oz. Asiago Cheese, thinly sliced

5 Shallots, minced

Balsamic reduction

4 oz. Brown sugar

3 oz. Canola Oil

2 lbs. Butternut Squash, large dice

2 Tbsp. Parsley, finely chopped

Kosher salt, to taste

Black Pepper, ground, to taste
Instructions:
Roast butternut squash with oil and brown sugar at 325 degree F until soft. Transfer to a parchment lined pan and refrigerate until cold. Set aside until needed.

Par boil gnocchi until tender. Do not over cook.

In a pan, brown gnocchi in clarified butter, add shallots and saute for 3 minutes.

Add squash and sage. Finish with whole butter and season with salt and pepper as needed.

Place in entree bowl, garnish with thin slices of asiago cheese over the top, drizzle balsamic reduction around the plate.

Sprinkle chopped parsley over the dish. Serve immediately.
Nutrition Facts:
Video:
Brown Butter Gnocchi With Roasted Squash Video
A video is currently not available for this recipe.
Date Created:
2020-09-06
Last Modified:
2021-12-13
This recipe provided to you by:
www.cruisingearth.com
Holland America Food Recipes
Holland America Beverage Recipes
Other Cruise Line Recipes