Carnival Cruise Lines - RedFrog Pub / RedFrog Rum Bar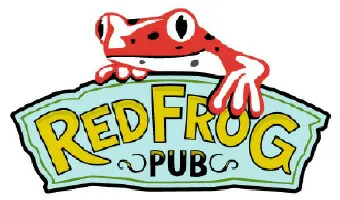 View / Download Menus
RedFrog Pub/Brewery Menu
RedFrog Rum Bar Menu
The RedFrog Pub offers a laid-back Caribbean vibe with island-inspired snacks and drinks, including ThirstyFrog Red, a private-label draught beer originally brewed exclusively for the RedFrog Pub on the Carnival Magic.
The RedFrog Pub on the Carnival Magic is located on Promenade Deck 5, the 100-seat indoor/outdoor pub where guests can relax, meet new friends, sip a frozen cocktail, and nosh on Bahamian conch salad, grouper fingers, firecracker Jamaican chicken wings and other Caribbean favorites. The RedFrog Pub will also offer tastings of top-rated rums of the Caribbean and a collection of the region's best beers.
With a nod to the Caribbean itineraries, RedFrog Pub's décor is decidedly British West Indies meets Key West, evoking the warmth and friendliness of a local island watering hole. Nautical-themed interiors with rich wood details, vibrant tile work, portholes, and images of ships at sea, along with foosball and shuffleboard tables and a jukebox, complete the playful pub atmosphere. Each evening as the sun sets, patrons can kick back to live acoustic guitar and vocals as they relax on swing-gliding chairs or amuse themselves with any number of bar games such as darts, puzzles and more.
There is a nominal fee, $3.33 for snacks (a la carte). The fee does not include any beverage that is normally ordered through bar service such as beer, wine, liquor, soda and bottled water.
Other ships in the Carnival Cruise Fleet will begin to offer RedFrog Rum Bars. They will have a similar atmosphere and menu to the RedFrog Pub on the Carnival Magic.
Carnival Ships With RedFrog Pubs / Rum Bars / Tiki Bars
ThirstyFrog Red
ThirstyFrog Red is a red/amber ale draught beer rich in taste and delicate aroma, with toasted notes resulting from the fine caramel and black malts used during the brewing process. It is similar in taste to Killian's Red. ThirstyFrog Red is offered on draft only. It is brewed by Anheuser-Busch (Budweiser) and is only available onboard Carnival Cruise Line ships. It is served in select bars and lounges onboard, typically most places where draft beer is available onboard. ThirstyFrog Red is available onboard all Carnival Ships.
ThirstyFrog Red is served in 3 sizes.
20oz Pints:
$5.75
60oz Pitchers:
$16.50
101oz Beer Tubes:
$27.95
Page last updated:
Fri Mar 17, 2023