Administrator
Staff member
As of 8/24/2019 we now have the fourth tropical storm of the 2019 Atlantic Season - Dorian. Check out the projected path of Dorian. It is expected to cross some major cruising routes and cruise destinations over the next week.
Live Hurricane and Tropical Storm Tracker. Includes tracking map, live radar, forecast cones and tracks, wind speed / pressure charts, projected impacts to land and more.

www.cruisingearth.com
Will your cruise or property be affected? Keep up to date with all the latest storm and forecast information.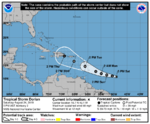 Note:
Check directly with your cruise line for any possible weather related delays or itinerary changes. Many cruise lines will also allow you to sign-up online to receive alerts pertaining to your cruise via email or text message.
Last edited by a moderator: