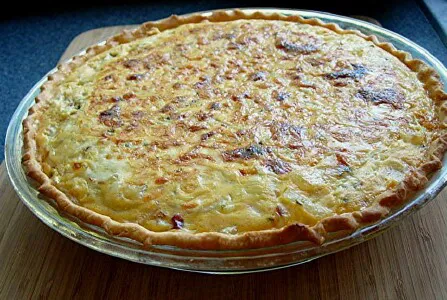 Royal Caribbean International's
Vidalia Onion Tart Recipe
Recipe Cuisine: American
Recipe Category: Side Dishes
Yield: 4 Servings
Prep Time = 0:00Cook Time = 0:00Total Time = 0:00
Ingredients:
Two 9" prepared pie crusts

2 Tbsp Extra Virgin Olive oil

3 large Vidalia onions julienned

1 tbsp chopped fresh Thyme

3/4 cup grated Gruyere cheese

5 eggs

1/2 Cup heavy cream

1-2 tbsp chopped chives

1 tbsp finely chopped parsley

1/2 tsp ground nutmeg

Salt & pepper
Instructions:
Prick bottoms and pre-cook pie crusts at 375 degrees F until lightly golden.

Warm olive oil in large sauce pan. Then on high heat caramelize onions to desired consistency. Add Thyme and season with salt & pepper. Spread onions evenly between pie crusts and divide cheese and sprinkle evenly on onions.

In a medium bowl, beat eggs lightly, add cream, fresh herbs and seasonings. beat until well mixed. Pour mixture into prepared crusts over the onion and cheese and bake appx. 40 minutes
Nutrition Facts:
Video:
Vidalia Onion Tart Video
A video is currently not available for this recipe.
Date Created:
2016-01-01
Last Modified:
2021-12-13
This recipe provided to you by:
www.cruisingearth.com
Royal Caribbean Food Recipes
Royal Caribbean Beverage Recipes
Other Cruise Line Recipes