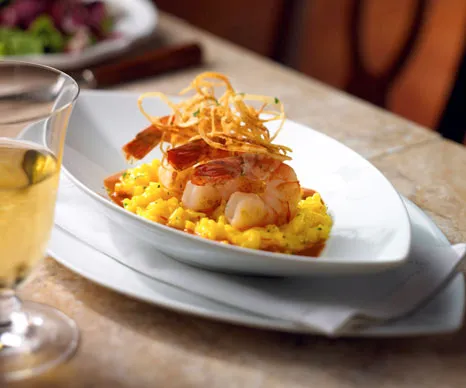 Royal Caribbean International's
Risotto Ai Gamberretti Recipe
Recipe Cuisine: Italian
Recipe Category: Entrées
Yield: 6 Servings
Prep Time = 0:00Cook Time = 0:00Total Time = 0:00
Ingredients:
Risotto:

3 tablespoons (45 ml) extra virgin olive oil

2 shallots, small diced

1 clove garlic, minced

2 cups (465 g) Arborio rice

1/4 teaspoon (1 g) saffron threads

1/4 (60 ml) dry white wine

6 cups (1.4 L) fish or vegetable stock, simmering

2 tablespoons (30 g) butter

1/3 cup (90 ml) heavy cream

1/3 cup (85 g) freshly grated Parmesan cheese

Salt and freshly ground white pepper


Shrimp:

4 tablespoons (60 g) of butter

18 pieces of large shrimp (size 16/20) raw, peeled and deveined

1/4 cup (60 ml) dry white wine

1 tablespoon (15 g) lobster base, purchased

1/4 cup (60 ml) water


Garnish:

1/4 bunch parsley, finely chopped

1 onion, thinly sliced, lightly floured and fried
Instructions:
In a large saucepan over medium heat, warm oil and saute shallots and garlic for 4 minutes.

Add rice and stir until each grain is well coated with oil, about 3 minutes.

Add saffron and wine and stir until liquid is completely absorbed.

Add stock to rice a ladleful at a time, stirring frequently after each addition. Make sure rice never gets dry. Season with salt and pepper.

When the rice is tender to the bite, after about 20 minutes, add butter, heavy cream and Parmesan cheese and mix well. Set aside and keep warm.

For shrimp, in a saute pan over a medium heat, melt butter and saute shrimp for 2 minutes on each side. Deglaze with white wine, stir in lobster base and water and simmer for 5 minutes.

Remove shrimp from sauce and pass through a sieve. Whisk butter into sauce a little at a time.

Arrange risotto in warmed appetizer plates and top with 3 shrimp. Drizzle with sauce and garnish and chopped parsley and fried onions.
Nutrition Facts:
Video:
Risotto Ai Gamberretti Video
A video is currently not available for this recipe.
Date Created:
2016-01-01
Last Modified:
2021-12-13
This recipe provided to you by:
www.cruisingearth.com
Royal Caribbean Food Recipes
Royal Caribbean Beverage Recipes
Other Cruise Line Recipes