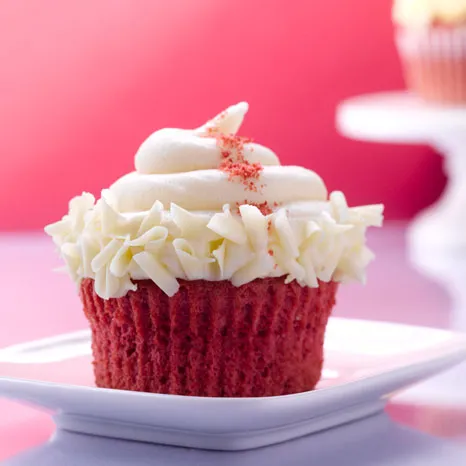 Royal Caribbean International's
Red Velvet Cupcakes Recipe
Recipe Cuisine: American
Recipe Category: Desserts
Yield: 12 Servings
Prep Time = 0:00Cook Time = 0:00Total Time = 0:00
Ingredients:
Cupcakes:

2 1/2 cups (580 g) all-purpose flour

2 tablespoons (30 g) unsweetened cocoa powder

2 teaspoons (10 g) baking powder

1/2 teaspoon (2.5g) baking soda

1/2 teaspoon (2.5 g) salt

1/2 cup (120 ml) buttermilk or milk

1/2 cup (120 ml) vegetable oil

1 teaspoon (5 ml) red gel paste food coloring

1 teaspoon (5 ml) vanilla extract

1/2 cup (115 g) unsalted butter, softened

1 cup (235 g) sugar

3 eggs


Frosting:

1 batch vanilla cream cheese frosting


Garnish:

White chocolate curls

1 red velvet cupcake crumbled
Instructions:
Preheat oven to 350 degrees F or 180 degrees C

Line muffin cups with chosen paper liners.

Combine flour, cocoa powder, baking powder, baking soda and salt in a medium-size bowl and whisk.

In a small bowl, combine buttermilk, vegetable oil, red gel paste food coloring and vanilla extract and mix well.

In a medium bowl, with an electric mixer at medium speed, beat butter and sugar for about 4 minutes until creamy and light in color.

Incorporate eggs, one at a time, beating well. Reduce speed to low and slowly incorporate flour mixture and buttermilk mixture. Beat for 2 minutes or until well mixed.

Spoon half of the batter into plastic sandwich bag. Snip a 1/4 inch corner from the bag and fill the liners two-thirds full. Repeat operation until all the batter has been used.

Bake for 18 to 20 minutes or until a toothpick inserted in the center of the cupcakes comes out clean.

Remove cupcakes from the baking pan and let cool on a wire rack. Set one aside for garnish.

Spoon vanilla cream cheese frosting into a piping bag or sandwich bag fitted with a large round tip. Pipe icing onto each cupcake, swirl the tip with your wrist as you pull up to form a peak.

Garnish cupcakes with white chocolate curls around the edges and sprinkle the tops with red velvet cupcake crumbs.
Nutrition Facts:
Video:
Red Velvet Cupcakes Video
A video is currently not available for this recipe.
Date Created:
2016-01-01
Last Modified:
2021-12-13
This recipe provided to you by:
www.cruisingearth.com
Royal Caribbean Food Recipes
Royal Caribbean Beverage Recipes
Other Cruise Line Recipes