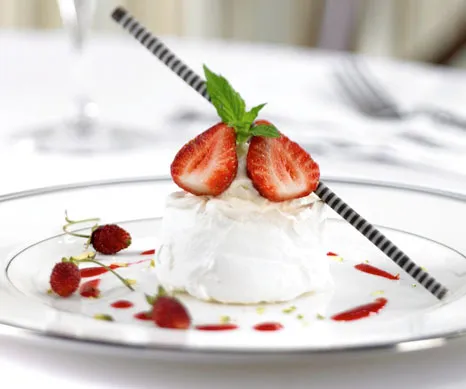 Royal Caribbean International's
Pavlova Recipe
Recipe Cuisine: German
Recipe Category: Desserts
Yield: 6 Servings
Prep Time = 0:00Cook Time = 0:00Total Time = 0:00
Ingredients:
Strawberry Syrup:

1 cup (230 g) strawberries, quartered

1 cup (230 g) granulated sugar

1 teaspoon (5 ml) vanilla extract

3 tablespoons (45 ml) water


Meringues:

4 egg whites, room temperature

1 cup (235 g) granulated sugar

1/2 teaspoon (2.5 g) cornstarch

1 teaspoon (5 ml) lemon juice


Garnish:

Whipped Cream

6 strawberries halved

Mint sprigs

6 chocolate cigarettes, purchased

1-ounce (30 g) pistachio, chopped

18 wild strawberries
Instructions:
Preheat oven 300 degrees F or 150 degrees C

In a small saucepan over medium heat, combine all ingredients for the strawberry syrup and bring to a boil. Lower heat and simmer for 15 minutes or until berries are soft and syrup is thickened.

Remove from heat and strain through a fine strainer into a clean container. Let cool, cover and refrigerate.

Meanwhile, to make meringues, place egg whites in a stainless steel or glass bowl and using, a hand-held mixer beat on medium speed until soft peaks form. Gradually add sugar a little at a time until stiff peaks form. Fold in cornstarch and lemon juice.

Using an ice cream scoop, create balls and delicately transfer on a pre-greased baking sheet. Gently tap the top of each meringue to create a flat surface.

Bake for 30 minutes. Remove from heat and let cool on a wire rack.

To serve, place each meringue on a chilled dessert plate. Top with a dollop of whipped cream, a couple half strawberries, a mint sprig and a chocolate cigarette.

Finish with a drizzle of strawberry syrup. Sprinkle with pistachio and garnish with wild strawberries.
Nutrition Facts:
Video:
Pavlova Video
A video is currently not available for this recipe.
Date Created:
2016-01-01
Last Modified:
2021-12-13
This recipe provided to you by:
www.cruisingearth.com
Royal Caribbean Food Recipes
Royal Caribbean Beverage Recipes
Other Cruise Line Recipes