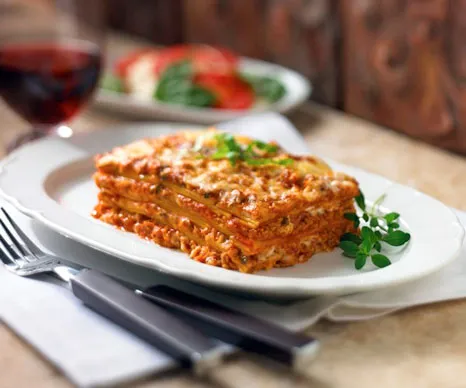 Royal Caribbean International's
Lasagne Tradizionale Recipe
Recipe Cuisine: Italian
Recipe Category: Entrées
Yield: 6 Servings
Prep Time = 0:00Cook Time = 0:00Total Time = 0:00
Ingredients:
Lasagna:

Sea Salt

1 tablespoon (15 ml) vegetable oil

1 26-ounce (454 g) package lasagna pasta or pasta sheets, store bought

4-ounces (120 g) grated parmesan cheese

4-ounces (120 g) shredded Monterey cheese


Meat Sauce:

1 tablespoon (15 ml) extra virgin olive oil

2 medium yellow onions, diced

2 cloves garlic, diced

1 pound (450 g) lean ground beef or turkey

1 tablespoon (15 g) of tomato paste

1/4 (60 ml) red wine

1 (16 ounce) or (450 g) can of chopped tomato

1 cup (240 ml) water

1/2 teaspoon (2.5 g) sugar

2 tablespoons (30 g) Herbes de Provence or Italian Seasoning blend

Salt and freshly ground black pepper


White Sauce:

1/3 cup (85 g) butter

1/3 cup (85 g) all-purpose flour

1 teaspoon (5 g) ground nutmeg

1 teaspoon (5 g) salt

2 cups (475 ml) warm milk


Garnish:

Julienne basil
Instructions:
Preheat oven to 350 degrees F or 175 degrees C

To soften lasagna, bring a large pot of salted water and oil to a boil. Add pasta 2 to 3 at a time and stir. Return to a boil and cook for 5 minutes or until lasagna sheets are soft. Remove from water and lay on wax paper or aluminum foil to avoid stickiness.

For meat sauce, in a saucepan over medium heat, warm oil and saute onions for 5 minutes or until translucent. Add garlic and saute for 2 minutes. Add meat and cook for 6 to 8 minutes or until meat begins to brown. Stir in tomato paste and deglaze with wine. Add chopped tomatoes, water, sugar and herbs and mix well. Season with salt and pepper, cover and simmer for 30 minutes.

For white sauce, in a small saucepan over low heat, melt butter and whisk in four, nutmeg and salt. Cook roux for 2 minutes (do not brown) then slowly incorporate milk, stirring constantly for 5 to 6 minutes or until smoothed and thickened

Mix cheese in a small glass or stainless steel bowl

To build lasagna, pour 2 to 3 tablespoons of meat sauce in a 9 inch x 13 inch pan, top with a layer of pasta (lengthwise) a layer of white sauce, a layer of meat sauce and sprinkle with cheese mix. Repeat twice ending with cheese.

Bake for 30 minutes and serve in warmed plates, garnished with julienned basil.
Nutrition Facts:
Video:
Lasagne Tradizionale Video
A video is currently not available for this recipe.
Date Created:
2016-01-01
Last Modified:
2021-12-13
This recipe provided to you by:
www.cruisingearth.com
Royal Caribbean Food Recipes
Royal Caribbean Beverage Recipes
Other Cruise Line Recipes