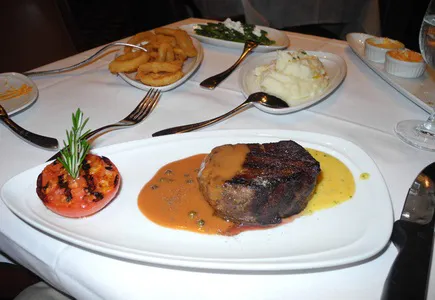 Royal Caribbean International's
Green Peppercorn Sauce Recipe
Recipe Cuisine: French
Recipe Category: Dips, Sauces, Salad Dressings
Yield: 4 Servings
Prep Time = 0:10Cook Time = 0:25Total Time = 0:35
Ingredients:
1 teaspoon olive oil

2 shallots, finely chopped

2 tablespoons unsalted butter, divided

2 tablespoons canned green peppercorns, drained

2 tablespoons brandy, preferably Cognac

1 cup demi~glace or beef stock

1/2 cup heavy cream

Salt and freshly ground black pepper
Instructions:
Heat the oil in a medium skillet over medium heat. Add the shallots, green peppercorns and 1 tablespoon of the butter and saute, stirring occasionally until the shallots have softened and become translucent, about 3-4 minutes. Add peppercorns and then brandy. Stir well. Add demi-glace/beef stock and let simmer for about 15 minutes. Add cream and remaining butter, adjust consistency by simmering for a few minutes to reduce if to thin. Season with salt and black pepper.

Variations: Different types of peppercorn can be used in the sauce preparation, such as black, green and pink, among others.

Peppercorn sauce may be served with beef steak such as filet mignon and other beef tenderloin cuts, lamb, rack of lamb, chicken and fish dishes, such as those prepared with tuna and salmon.
Nutrition Facts:
Video:
Green Peppercorn Sauce Video
A video is currently not available for this recipe.
Date Created:
2019-09-30
Last Modified:
2021-12-13
This recipe provided to you by:
www.cruisingearth.com
Royal Caribbean Food Recipes
Royal Caribbean Beverage Recipes
Other Cruise Line Recipes