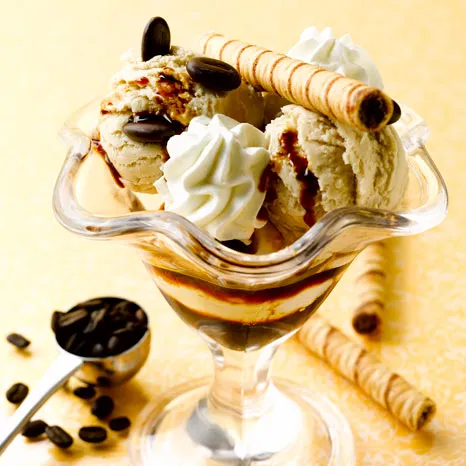 Royal Caribbean International's
Café Liegeois Recipe
Recipe Cuisine: French
Recipe Category: Desserts
Yield: 6 Servings
Prep Time = 0:00Cook Time = 0:00Total Time = 0:00
Ingredients:
Café Gelato:

2 cups (475 ml) whole milk

1 cup (240 ml) heavy cream

1 cup (235 g) sugar

2 tablespoons (30 g) instant coffee

5 egg yolks

1 teaspoon (5 ml) vanilla extract

3 tablespoons (45 g) instant coffee

2 tablespoons (30 ml) Kahlua or coffee liqueur


Garnish:

5 espresso shots, chilled or 1/3 cup (90 ml) coffee sauce (purchased)

1/2 cup (120 ml) heavy cream, whipped

Candied coffee beans

Cigarette biscuits
Instructions:
In a saucepan over medium-heat, warm milk, cream, 1/2 cup of sugar and instant coffee for 5 minutes or until sugar has dissolved and milk is simmering.

Remove from heat and let cool.

In a medium glass or stainless steel bowl, using an electric mixer at high speed, beat egg yolks and remaining sugar for 5 minutes or until light, yellow and thick.

Reduce speed to low and slowly incorporate warm milk mixture.

Fold in vanilla extract, instant coffee and coffee liqueur and pour mixture back into saucepan. Cook over medium-low heat, stirring constantly for 5 to 6 minutes or until thickened. Do not allow mixture to boil.

Pour mixture through a sieve into a glass bowl. Let cool slightly before covering with plastic wrap and chilling.

Pour mixture into an ice cream machine and process as directed by manufacturer.

Transfer into a container. Cover and freeze.

To make Café Liégeois, place 3 scoops of coffee gelato into chilled bowls. Drizzle with cold espresso shots or coffee sauce. Top with rosettes of whipped cream. Garnish with candied coffee beans and a cigarette biscuit.
Nutrition Facts:
Video:
Café Liegeois Video
A video is currently not available for this recipe.
Date Created:
2016-01-01
Last Modified:
2021-12-13
This recipe provided to you by:
www.cruisingearth.com
Royal Caribbean Food Recipes
Royal Caribbean Beverage Recipes
Other Cruise Line Recipes