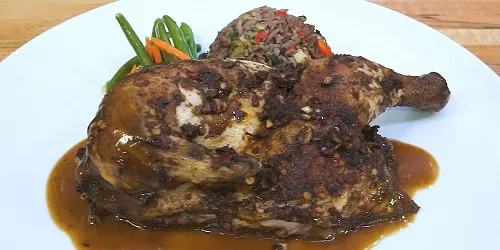 Celebrity Cruises'
Jerk Chicken Recipe
Recipe Cuisine: Caribbean
Recipe Category: Entrées
Yield: 1 Serving
Prep Time = 0:15Cook Time = 0:30Total Time = 0:45
Ingredients:
2 pc Chicken cut in half (Thigh and Breast)

0.25 oz. Dry Jerk Chicken Spice

1tbsp. Gluten Free Soy Sauce

¼ Yellow Onion

1 Garlic Clove

1oz. Ginger

1oz. Jalapeño

1oz. Thyme

1oz. Scallions

1tsp. Cajun Spice
Instructions:
In a large container combine jerk spice seasoning, onions, garlic, blended oil, soy sauce, thyme, ginger, jalapeño, Jerk spices and blend all with the immersion blender.

Rub chicken with spice marinade and place in large container to

marinade for 12 hours

.

Remove chicken from marinade, place chicken breast side up on a sheet pan.

Heat the oven at 370 F and roast the chicken for 30 minutes, remove from oven & cool down, de-bone the chicken and place it on the tray.

Use the juice from chicken to brush again and cook again until done.

Place on the hot plate for service.
Nutrition Facts:
Video:
Jerk Chicken Video
A video is currently not available for this recipe.
Date Created:
2020-01-08
Last Modified:
2021-12-13
This recipe provided to you by:
www.cruisingearth.com
Celebrity Food Recipes
Celebrity Beverage Recipes
Other Cruise Line Recipes