Carnival Cruise Lines - What's Included? What's Extra?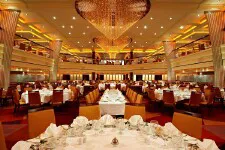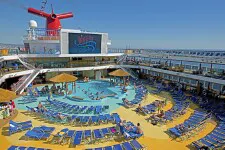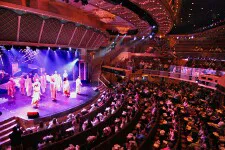 What's Included On A Carnival Cruise:
Food & Drink
Fine dining in the main dining rooms (lobster and steak served on every cruise, usually on the "Cruise Elegant Dining Night"
Healthy selections low in fat, sodium & cholesterol are available in the main dining room for breakfast, lunch & dinner
Casual dining in the Lido restaurant for breakfast, lunch & dinner
24-hour Pizzeria - pizza, calzones, caesar salad
24-hour Ice Cream Station - serving soft serve ice cream and frozen yogurt
Coffee, hot tea, hot chocolate, unsweetened iced tea, lemonade, orange juice, milk and water (fountain, not bottled) are free throughout the cruise
Onboard Activities Day & Night
Serenity - adult only retreat (on select ships)
All onboard clubs, bars and lounges (activities including karaoke, dance lessons and more)
Spectacular stage shows
Live music, including three bands and orchestra
Comedy acts and international singers
Fitness center, steam room, sauna and outdoor jogging track
All pools including children's wading pool (on select ships) and whirlpool/hot tubs
Carnival's Twister Waterslide OR Carnival Waterworks (depends on ship)
Mini Golf
Basketball Court/Volleyball court (on select ships)
Library
Carnival's Seaside Theatre (on select ships)
Sliding Sky Dome - enjoy the pool rain or shine (on select ships)
Table tennis
Poolside entertainment (live music, games, dancing, etc.)
Carnival Ocean Youth Programs
Carnival's Youth Programs provide activities and entertainment for all kids 17 years and younger.
There are 5 programs broken down into specific age groups:

Penguins:

Ages 2-5

Stingrays:

Ages 6-8

Sharks:

Ages 9-11

Circle "C":

Ages 12-14

Club O2:

Ages 15-17
Cabin/Stateroom Amenities & Services
Carnival's Comfort Collection in all rooms
In-stateroom Toiletries and Amenities
In-stateroom Movies
What's Extra On A Carnival Cruise:
Faster To The Fun (FTTF): Enroll in the Faster to The Fun program and receive priority embarking & debarking along with other services.
Various beverages (including but not limited to: alcoholic drinks, specialty coffees, soda and bottled water)
24-hour Room Service
"Bottomless Bubbles" Unlimited Soda Program: Entitles you to unlimited sodas and juice while onboard. Unlimited soda and juice is also part of the "Cheers" Beverage Program. (see link below)
"Cheers" Beverage Program: Offers flat-rate daily pricing for alcoholic drinks, non-alcoholic frozen drinks, wine by the glass and soda. See link for complete program details and current list of ships offering the program.
All items from the patisserie (pastries, baked goods, indulgent sweets, etc.)
Use of Spa Carnival and Cloud 9 Spa services
Ship-to-shore communications (i.e. Wi-Fi capability, cell phone roaming charges apply)
Wi-Fi / Internet Service
Photographs, portraits or film developing
Onboard duty-free shopping
Medical services
Shore excursions (can be booked through Carnival prior to cruising or once on board, booking them directly yourself can save 20%+ from Carnival's prices)
Casino, bingo and other gaming
Arcade
Gratuities
Golf Academy (on select ships)
Babysitting Services (from 10PM to 1AM in Camp Ocean for ages 11 and under)
The Steakhouse: Available only on select ships and reservations recommended.
The Chef's Table: Don't forget The Chef's Table, the finest dining experience onboard!
Page last updated:
Fri Mar 17, 2023