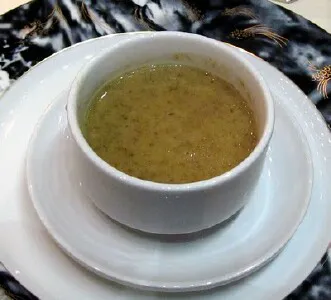 Carnival Cruise Lines'
Wild Mushroom Soup Recipe
Recipe Cuisine: American
Recipe Category: Soups, Stews, Chili
Yield: 12 Servings
Prep Time = 0:00Cook Time = 0:00Total Time = 0:00
Ingredients:
2 c Warm Water

3/4 ounce Dried Porchini Mushrooms

2 tbsp Butter

1 c Chopped Onion

1 Cup Chopped Carrots

1/2 c Chopped Leaks

22 oz Wild Fresh Mushrooms

1/2 c Dry White Wine

4 c Chicken Stock

1 c Chopped Russet Potato

1 tbsp Chopped Fresh Thyme

1 Bay Leaves

1/2 c Whipping Cream

Chopped Fresh Parsley & Chives
Instructions:
Combine 2 cups warm water and dried porcini mushrooms in small bowl. Let mushrooms soak until soft, about 30 minutes. Using slotted spoon, remove mushrooms from liquid. Squeeze excess liquid from mushrooms back into bowl. Strain 1 cup soaking liquid into another small bowl, leaving any sediment behind.

Melt 1 tablespoon butter in heavy large pot over medium heat. Add onion, carrots and leek. Sauté until vegetables are tender and pale golden, about 10 minutes. Add remaining 1 tablespoon butter and fresh mushrooms; sauté until mushrooms are tender and brown, about 10 minutes. Stir in porcini and wine. Cook until liquid evaporates, about 5 minutes. Add 4 cups stock, potato, thyme, bay leaf and 1 cup reserved porcini soaking liquid. Bring to boil. Reduce heat and simmer until potato is very soft, stirring occasionally, about 30 minutes.

Discard bay leaf. Cool slightly. Working in batches, puree soup in blender. Return soup to pot. Mix in cream. Bring to simmer. Season with salt and pepper. (Can be prepared 1 day ahead. Cover and refrigerate. Rewarm before serving, thinning with more stock, if desired.)

Ladle soup into bowls. Sprinkle with chopped parsley.
Nutrition Facts:
Video:
Wild Mushroom Soup Video
A video is currently not available for this recipe.
Date Created:
2016-01-01
Last Modified:
2021-12-13
This recipe provided to you by:
www.cruisingearth.com
Carnival Food Recipes
Carnival Beverage Recipes
Other Cruise Line Recipes