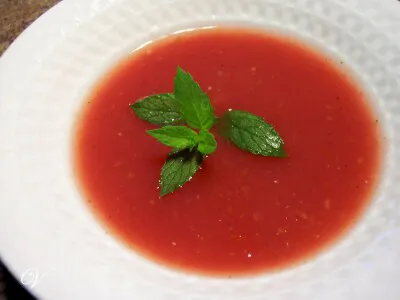 Carnival Cruise Lines'
Watermelon Soup (chilled) Recipe
Recipe Cuisine: American
Recipe Category: Soups, Stews, Chili
Yield: 4 Servings
Prep Time = 0:00Cook Time = 0:00Total Time = 0:00
Ingredients:
4 c Seeded Watermelon Chunks & Juice

2 tbs Lemon Juice

2 tbs Chopped Fresh Spearmint

1 tbs Sugar

1/3 c White Wine

1-1/2" Fresh Ginger Root, sliced- 1/8" thick

Fresh Spearmint Springs for garnish
Instructions:
In a blender, blend all ingredients except the ginger.

Add the ginger slices and chill the soup several hours.

Remove the ginger slices. Garnish with mint sprigs and serve.
Nutrition Facts:
Video:
Watermelon Soup (chilled) Video
A video is currently not available for this recipe.
Date Created:
2016-01-01
Last Modified:
2021-12-13
This recipe provided to you by:
www.cruisingearth.com
Carnival Food Recipes
Carnival Beverage Recipes
Other Cruise Line Recipes