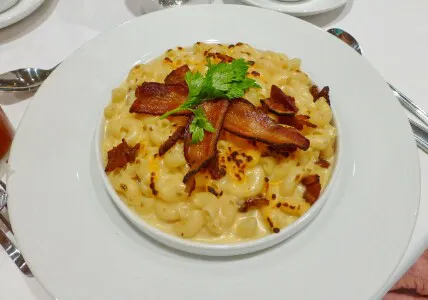 Carnival Cruise Lines'
Macaroni & Cheese Recipe
Recipe Cuisine: American
Recipe Category: Entrées
Yield: 10 Servings
Prep Time = 0:00Cook Time = 0:00Total Time = 0:00
Ingredients:
12 oz Cheddar Cheese

8 oz Brie Cheese

8 oz Mozzarella Cheese

2 lb Macaroni Pasta

1 lb Sour Cream

8 oz Mascarpone Cheese

6 oz Parmesan Cheese

6 oz Swiss Cheese

1 pt Half & Half Cream

1.5 qt Heavy Cream

2 lbs Applewood Smoked Bacon

10 count of 3 oz Chicken Breasts

White Pepper To Taste
Instructions:
Heat pan, add cream and half & half; bring it to boil. Slowly fold in brie, mascarpone, Swiss cheese, (half the quantity) cheddar cheese and, and sour cream. Season well. Boil macaroni in salted water drain fold in the cheese sauce.

Add cooked bacon to the macaroni. Pour 6 oz of pasta in the center of the pasta bowl. Arrange dices of fresh mozzarella on the top of the pasta.

Hand chop rest of the cheddar cheese and mix with grated parmesan, and sprinkle it over the macaroni. Place for two minutes under a broiled to gratinate. Serve with grilled chicken breast and garnish with a crisp rasher of apple-wood smoked bacon and a parsley sprig.
Nutrition Facts:
Video:
Macaroni & Cheese Video
A video is currently not available for this recipe.
Date Created:
2016-01-01
Last Modified:
2021-12-13
This recipe provided to you by:
www.cruisingearth.com
Carnival Food Recipes
Carnival Beverage Recipes
Other Cruise Line Recipes