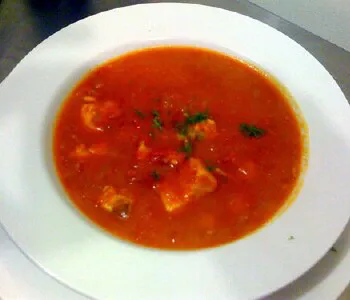 Carnival Cruise Lines'
Bouillabaisse Recipe
Recipe Cuisine: French
Recipe Category: Soups, Stews, Chili
Yield: 4 Servings
Prep Time = 0:00Cook Time = 0:00Total Time = 0:00
Ingredients:
For Bouillabaisse
1 Qt Bouillabaisse Stock

1 Yellow Onion peeled, chopped

1 Clove Garlic peeled, chopped

.25 ea Fennel Tops chopped

4 Tomatoes diced

1 squeezed Fresh Lemon

4 fl oz Wine White (cooking)

1 fl oz Olive Oil

White Pepper to taste

Salt to taste



For Seafood


4 count - Shrimp Green Raw without tails

8 count - Mussel in Shell

24 dices (4 oz) - Tilapia & Grouper

4 count - Clams Steamer (frozen)

1 fl oz Olive Oil

4 Sprigs - Herb Basil

2 fl oz Wine White (cooking)
Instructions:
Peel & Cut Onion & Fennel into rough Dices. Blend Onion, Garlic & Fennel to a smooth paste separately and cut Fresh Tomatoes into 1 inch Dices.

Heat up Olive Oil and sauté Onion & Garlic Paste till cooked or to a light Pink color.

Add Fennel & Tomato Dices and continue to sauté. Deglaze with White Wine, add Salt & White Pepper, simmer for 5 minutes.

Add Bouillabaisse Stock, bring to a boil and simmer for 10 minutes. Check seasoning. Keep aside.



Finish & Presentation


Heat up Olive, and add Shrimps, sauté lightly and add Mussels, Clams. Continue to sauté and add fish dices in the end.

Deglaze with White Wine and simmer for another 2 minutes.

Add the prepared Bouillabaisse stock. Continue to simmer till Seafood is cooked adjust seasoning.

Infuse with Basil Sprigs and hold on Induction.

Serve to order in Individual Soup Bowls garnished with 2 croutons & one slice of garlic bread.

Note: Each portion should include; 1 ea shrimp, 2 ea Mussels, 6 ea fish cubes, 1 ea Clam.
Nutrition Facts:
Video:
Bouillabaisse Video
A video is currently not available for this recipe.
Date Created:
2016-01-01
Last Modified:
2021-12-13
This recipe provided to you by:
www.cruisingearth.com
Carnival Food Recipes
Carnival Beverage Recipes
Other Cruise Line Recipes