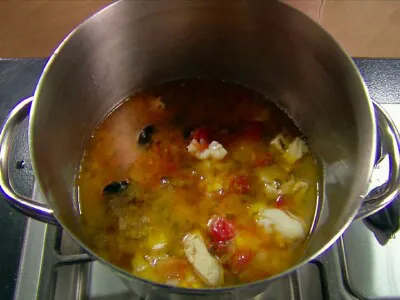 Carnival Cruise Lines'
Bouillabaisse Stock Recipe
Recipe Cuisine: French
Recipe Category: Soups, Stews, Chili
Yield: 40 Servings
Prep Time = 0:00Cook Time = 0:00Total Time = 0:00
Ingredients:
10 lbs Lobster Heads

4 lbs Chicken Bones

1lb Carrots large

1 lb Yeloow Onion peeled, chopped

1/4 lb Celery chopped

6 Fennel Tops

6 lbs Tomatos ripe

8 cloves Fresh Galic peeled, chopped

Few Sprigs Thyme chopped

1 can Tomatos diced

1/2 gt Olive Oil

1 gal White Wine White cooking

4 fl oz Pernod

1 Bay Leaf

A Couple Star Anise

3.5 gal Water

White Pepper to taste

Salt to taste
Instructions:
Clean & Wash Lobster Heads very carefully in cold running water. Wash Chicken Bones in cold running water as well.

Cut Carrot, Onion, Celery, Fennel & Fresh Tomatoes into even sized Dices.

Heat up half the Olive Oil in a Tilting Pan and sauté Lobster Heads evenly on all sides to deep color.

Add Aromatic Vegetables & crushed Garlic and continue to sauté.

Transfer to the Stock Pot and add Chicken Bones to it.

In the same Pan heat up the rest of the Olive Oil and sauté Fish Trimmings lightly.

Add Pernod and cook for 2 minutes.

Deglaze with half of the White Wine, simmer for 5 minutes, then transfer to the Stock Pot.

Add rest of the White Wine, Thyme, Star Anise, Bay leaf, fresh Tomatoes.

Season with Salt & White Pepper Powder. Mix well and cover with Water.

Bring it to a boil, remove any accumulated scum and at low heat simmer for 1 1/2 Hours.

Pass through a strainer in a way to attain a strong concoction.
Nutrition Facts:
Video:
Bouillabaisse Stock Video
A video is currently not available for this recipe.
Date Created:
2016-01-01
Last Modified:
2021-12-13
This recipe provided to you by:
www.cruisingearth.com
Carnival Food Recipes
Carnival Beverage Recipes
Other Cruise Line Recipes