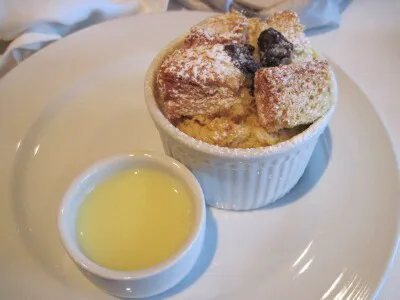 Carnival Cruise Lines'
Bitter & Blanc Bread Pudding Recipe
Recipe Cuisine: American
Recipe Category: Desserts
Yield: 5 Servings
Prep Time = 0:00Cook Time = 0:00Total Time = 0:00
Ingredients:
Instructions:
Preheat the oven to 325 degrees F.

Remove the crusts of the bread, dice into squares. Put in large bowl and pour cream over bread; let soak in.

In saucepan, melt the white chocolate with butter & set aside.

In a mixing bowl, mix cream, sugar & yolks, add the melted white chocolate/butter mixture on slow speed.

Add the cream-soaked bread, mix well.

Grease individual soufflé cups with butter and sprinkle lightly with sugar. Spoon a layer of ganache into the bottom of each cup. Top with bread pudding mixture. Bake at 325 degrees F for 45 mins. Remove, cool slightly, dust with powdered sugar & serve with vanilla sauce.



In addition you will need...



Ganache Ingredients: 1 cup Dark (or Semi-Sweet) Chocolate, 1 1/2 cup Heavy Cream, 1/2 tsp Vanilla Extract

Ganache Directions: In saucepan, heat heavy cream to simmer. Put dark chocolate into bowl and pour simmering cream over chocolate. Add vanilla extract and stir gently until smooth. Cool slightly.




Vanilla Sauce Ingredients: 1 cup Whole Milk, 2 tbsp Sugar, 1 tbsp Corn Starch, 2 Egg Yolks, 1 tsp Vanilla Extract.

Vanille Sauce Directions: boil milk & sugar in small saucepan. In small bowl, cream yolks & cornstarch; whisk in the milk, add vanilla extract. Pour back into saucepan & cook on slow heat till it reaches a coating consistency. Strain lumps. (Add a few drops of milk if too thick.)
Nutrition Facts:
Video:
Bitter & Blanc Bread Pudding Video
A video is currently not available for this recipe.
Date Created:
2016-01-01
Last Modified:
2021-12-13
This recipe provided to you by:
www.cruisingearth.com
Carnival Food Recipes
Carnival Beverage Recipes
Other Cruise Line Recipes