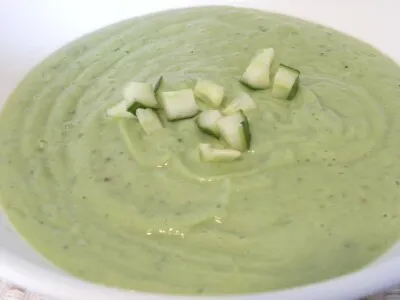 Carnival Cruise Lines'
Avocado Soup (chilled) Recipe
Recipe Cuisine: American
Recipe Category: Soups, Stews, Chili
Yield: 12 Servings
Prep Time = 0:00Cook Time = 0:00Total Time = 0:00
Ingredients:
3 Cucumbers, peeled, seeded and diced

1 Clove Minced Garlic

1 tsp Ground Cumin

1 tsp Chili Powder

1/4 c Chopped Cilantro

Juice of 2 Limes

1 qt Low-fat Buttermilk

12 oz Plain Yogurt

5 Ripe Avocados

2 c Chicken Stock (or water)

Salt

Pinch of Cayenne Pepper

Pinch of Dried Mint
Instructions:
Puree avocados with lime juice in a blender or food processor.

Put puree into large bowl and wisk in yogurt, buttermilk, and chicken stock.

Add chili powder, garlic, cumin, cayenne and mint.

Stir in the diced cucumber.

Taste for salt (at least 1/4 tsp).

Garnish the soup with cilantro. Serve.
Nutrition Facts:
Video:
Avocado Soup (chilled) Video
A video is currently not available for this recipe.
Date Created:
2016-01-01
Last Modified:
2021-12-13
This recipe provided to you by:
www.cruisingearth.com
Carnival Food Recipes
Carnival Beverage Recipes
Other Cruise Line Recipes