Carnival's flat-rate pricing adult beverage program.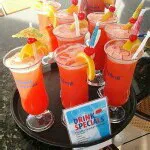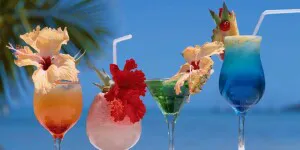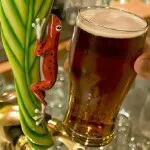 Non-alcoholic Beverages INCLUDED in the Cheers Beverage Program
Pepsi
Diet Pepsi
Pepsi Caffeine Free
Diet Pepsi Caffeine Free
Pepsi Zero Sugar
Sierra Mist
Sierra Mist Zero Sugar
Mug Root Beer
Mountain Dew
Diet Mountain Dew
Bubly Lime Sparkling Water
Bubly Grapefruit Sparkling Water
Bubly Orange Sparkling Water
Pure Leaf Unsweetened Black Tea
Pure Leaf Sweet Tea
Gatorade Lemon Lime
Gatorade Fruit Punch
Propel Berry
Propel Grape
Starbucks Frappuccino
Starbucks Double Shot Espresso
Dr. Pepper*
Diet Dr. Pepper*
* Dr. Pepper products are only served on ships departing from the Galveston and New Orleans cruise ports.
Most Recent Major Program Change(s)
May 2022 - Carnival introduced a near 15% price increase on the Cheer's Beverage Program (full details and pricing below).
January 2020 - Carnival transitioned from offering Coke products to offering Pepsi products.
Cheers Beverage Program Details & Pricing
The "Cheers" Beverage Program is flat-rate daily pricing for alcoholic drinks, wine by the glass (with a $20 or lower menu price), non-alcoholic frozen drinks and other non-alcoholic drinks like soda, juices, specialty coffees, hot tea, energy drinks, bottled water and more (see list above). The non-alcoholic drinks / sodas portion of the program are unlimited and do NOT count towards the program limit of 15 in a "day". Alcoholic drinks covered by the program are limited to 15 in a "day". The program "day" is a 24 hour period starting at 6:00AM and ending at 6:00AM the following day. See Restrictions below.
The Cheers Beverage Program is now available throughout Carnival's entire fleet; exceptions being: cruises sailing from Australia, 2-Day cruises and charter cruises.
The cost for the "Cheers" Beverage Program currently varies by length of cruise and whether it is purchased prior to the cruise or after you board. Prices shown below do not indicate the 18% gratuity added on at the time of purchase. Be aware, if one adult purchases the program each additional adult (21 and over) assigned to the same stateroom must also purchase the program, no exceptions.
If not purchased prior to the cruise the program must be purchased on the embarkation day or the next day and for the remainder of the cruise.
New Pricing Effective May, 1 2022

When Purchased
New Price


Per Person

Purchased Before Cruise:
$59.95/day
Purchased Onboard Ship:
$64.95/day
An additional 18% gratuity will be charged at time of purchase.
Beverages Included In The Program:
All spirits, including cocktails, cognacs, whiskies and other spirits, as well as beer and wine by the glass, with a $50 USD or lower menu price per serving.
Zero-Proof frozen cocktails (including smoothies), sodas (including specialty sodas) and juices.
Specialty coffees and hot tea served in the main dining rooms, specialty restaurants and coffee bars.
Milkshakes, where applicable.
Propel energy drinks, Gatorade, Bubly sparkling waters, Pure Leaf Teas and Starbucks ready-to-drink coffees.
500ml bottled water and other non-alcoholic bottled beverages served in bars and lounges.
Large format (1 liter and 1.5-liter) bottles of water in the main dining rooms and specialty restaurants.
25 percent discount off the menu price for any spirit, cocktail or wine by the glass, costing above $20 USD per serving.
25 percent discount off the menu price for wine and champagne by the bottle and larger format water bottles purchased outside the main dining rooms or specialty restaurants.
25 percent discount off beverage seminars and classes.
Beverages Excluded From The Program:
Beverages promoted and sold in souvenir glasses.
Bottles of liquor.
Beverages offered at the gangway.
Beverages offered through room service, mini bars and/or other in-stateroom beverage programs.
Sharing cocktails, floaters, pitchers, tubes and buckets.
Beverages offered through enomatic wine machines and self-serve beer stations.
All other beverage-related programs including merchandise, cigars and cigarettes.
Food items.
How to Purchase / Sign Up:
Cheers Is NOT Available On:
2-Day Cruises
Charter Cruises
Cruises sailing from Australia
Port calls in Half Moon Cay, The Bahamas and Princess Cay, The Bahamas. Keep in mind you can still use the Cheer's Beverage Program while you are on the ship when docked in these ports.
Notes:
There are absolutely

NO EXCEPTIONS

to the rule that everyone in the same cabin (21 years of age or older) most purchase the program. If they allowed one exception it would open the door to everything.
You still must sign all of your drink slips after getting a drink, just like you would if you weren't on the Cheers program.
Carnival reserves the right to refuse service for any reason at any time. This is independent of whether or not you have reached your "Cheers" Program alotted 15 drinks per day, or have purchased additional drinks after the program limit.
"Is The Cheers Beverage Program Worth It?"
...the question many are asking.
Program Cost = $59.95 per person / day (new pricing affective May 1, 2022), plus a 18% gratuity for a total of $70.74 per person / day for ALL sailings (if purchased prior to the cruise).
Sample 1
5 - Martinis ($8.95/per)
4 - Sodas ($1.95/per)

= $60.14 with gratuity
Sample 2
6 - Top Shelf Vodka Drinks ($7.50/per)
4 - Sodas ($1.95/per)

= $60.43 with gratuity
Sample 3
8 - Domestic Beers ($5.75/per)
3 - Sodas ($1.95/per)

= $59.34 with gratuity
Sample 4
6 - Domestic Beers ($5.75/per)
3 - Drinks of the Day (≈$8.00+/per)

= $58.50 with gratuity
If you will be drinking At Least one of the samples above or more in a day, for your entire cruise, this program will save you money.
For additional information on alcohol including offerings, prices and menus: Carnival Alcohol Prices & Selections
If you are looking for just the unlimited soda (not including alcohol) program: Carnival's "Bottomless Bubbles" Unlimited Soda Program