Carnival Cruise Lines - Bottomless Bubbles / Unlimited Soda Program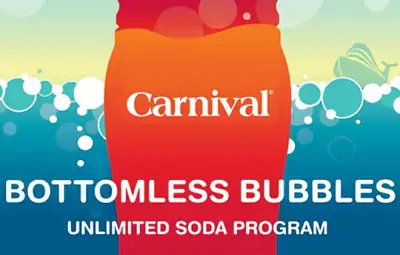 Beverages INCLUDED in the Buttomless Bubbles Program
Pepsi
Diet Pepsi
Pepsi Caffeine Free
Diet Pepsi Caffeine Free
Pepsi Zero Sugar
Sierra Mist
Sierra Mist Zero Sugar
Mug Root Beer
Mountain Dew
Diet Mountain Dew
Bubly Lime Sparkling Water
Bubly Grapefruit Sparkling Water
Bubly Orange Sparkling Water
Dr. Pepper*
Diet Dr. Pepper*
* Dr. Pepper products are only served on ships departing from the Galveston and New Orleans cruise ports.
Most Recent Major Program Change(s)
May 2022 - On May 1, 2022 Carnival increased the pricing for the Bottomless Bubbles Package approximately 15% (full details and pricing below).
January 2020 - Carnival transitioned from offering Coke products to offering Pepsi products.
"Bottomless Bubbles" Overview
Carnival Cruise Lines will offer all guests the option to purchase a "Bottomless Bubbles" unlimited soda program which will allow the guest unlimited soft drinks and juices for the duration of the cruise at a one-time purchase price. Bottomless Bubbles can be purchased online at www.carnival.com/Funshops or by contacting 'The Fun Shops' Department at 800 522-7648, Monday through Sunday, 9:00am-9:00pm ET. Cut-off for pre-purchase online is at 11:59pm ET, the evening prior to the cruise departure. Bottomless Bubbles can also be purchased on board at bar locations. Upon purchasing the program onboard, a sticker will be placed on the guest's Sail & Sign card.
In all areas where beverage service is offered, guests may show the "Bottomless Bubbles" sticker and receive a glass of soft drink or juice of their choice.
"Bottomless Bubbles" Pricing
Child Rate: $6.95/Day

(17 years of age and younger); previously before May 1, 2022: $5.95/Day

Adult Rate: $9.50/Day

(18 years of age and older); previously before May 1, 2022: $8.50/Day
An 18% gratuity will be added to price when purchasing the program.

Optional

: A Carnival soft drink tumbler may be purchased for an additional $5.95 with the program or for $9.95 without the program.
Pricing is subject to sales tax when purchased prior to the cruise or at port. You can purchase on the first night, or the next morning to avoid the taxes while in international waters.
"Bottomless Bubbles" Details
"Bottomless Bubbles" Unlimited Soda Program is non-transferable and may not be shared. Guests or family members who would like to enjoy soft drinks through this program must purchase their own sticker.
One beverage serving, per sticker, will be served at a time. There is a 5 minute wait between ordering drinks.
Soft drink is served by the glass (16 ounces); juice is served by the glass (10 ounces).
The "Bottomless Bubbles" Unlimited Soda Program can only be purchased on the day of embarkation or the next day. After the first full cruise day it is no longer available for purchase.
Must be purchased for entire cruise, not available by the day. You are charged by the length of cruise left. So, if you purchase the second day your price is cheaper.
Program is non-refundable.
Cannot be used through room service or the Interactive TV system, where applicable, or the minibar, where applicable.
Program is only applicable for onboard purchases; program cannot be used for beverage purchases at Half Moon Cay, The Bahamas and Princess Cays, The Bahamas.
Cheers Package is inclusive of VAT, if and as applicable on European cruises.
"Bottomless Bubbles" Notes
Unlimited soda is also part of the "Cheers" Beverage Program.
The following beverages are available in the Lido Deck Restaurant 24/7 and are complimentary: coffee; hot tea; hot chocolate; lemonade; unsweetened iced tea.
Page last updated:
Fri Mar 17, 2023