Administrator
Staff member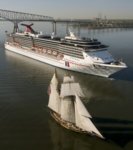 Carnival Cruise Lines and the Port of Baltimore today announced that the cruise line will resume year-round departures from Baltimore when the 2,124-passenger Carnival Pride begins seven-day cruises in spring 2015.
Carnival Pride is currently based in Baltimore where it will remain through October 2014 then reposition to Tampa for a winter cruise schedule before returning to Baltimore for year-round service in March 2015, hosting nearly 120,000 guests annually.
In anticipation of Carnival Pride's return to Baltimore, the ship will undergo an extensive multi-million-dollar makeover in fall 2014 that will add a host of dining, bar and entertainment innovations that are part of the line's $500 million Fun Ship 2.0 product enhancement program.
In addition to the new on-board features, Carnival Pride is one of several Carnival Cruise Lines ships that will be outfitted with exhaust gas cleaning technology – known as scrubbers –designed to reduce air emissions from cruise ships and large marine vessels. Scrubber technology will be installed on Carnival Pride prior to its Baltimore deployment in spring 2015. This new technology will enable the Carnival Pride to exceed the stricter air emission standards established for operation within the North American Emission Control Area (ECA).
"Baltimore is a convenient mid-Atlantic embarkation point for 'Fun Ship' cruising and we're pleased to resume these attractive year-round departures which offer our guests an opportunity to visit a variety of beautiful, tropical destinations," said Gerry Cahill, Carnival's president and CEO. "We would like to extend our thanks to officials from the port and the state of Maryland for their outstanding support in our efforts to resume year-round cruising from Baltimore," he added.
"We are pleased to welcome Carnival Cruise Lines back to Maryland and the Carnival Pride cruise ship back to the Port of Baltimore," said Governor Martin O'Malley. "Our Administration has a proven track record of advocating for a strong, healthy environment and fighting for high-quality jobs for Maryland families. I'm pleased Carnival and the Environmental Protection Agency and Coast Guard have agreed on a plan that will keep family-supporting jobs in Maryland and allow a cleaner and even greener Carnival Pride to return to this thriving cruise market."
Year-Round Seven-day Cruises From Baltimore
On its year-round deployment from Baltimore, Carnival Pride will offer two distinctly different itineraries with voyages departing every Sunday beginning March 29, 2015. Week-long exotic eastern Caribbean cruises will visit Grand Turk, the private Bahamian island of Half Moon Cay and Freeport, The Bahamas, while a Florida/Bahamas schedule will feature Port Canaveral, Fla. (Orlando), and Nassau and Freeport, The Bahamas.
During these cruises, guests can relax on beautiful white-sand beaches, participate in fun water-sports activities and visit popular landmarks and attractions throughout the Caribbean, Bahamas and Central Florida.
Exciting Fun Ship 2.0 Innovations
Carnival Pride will undergo a three-week dry dock from October 19 to November 9, 2014, during which it will be outfitted with a variety of Fun Ship 2.0 innovations, including:
Guy's Burger Joint, a free-of-charge poolside venue developed in partnership with Food Network personality Guy Fieri serving hand-crafted burgers and fresh-cut fries in an atmosphere that celebrates the chef's California roots and love of car culture
BlueIguana Cantina, a complimentary poolside Mexican eatery where guests can enjoy authentic, freshly made burritos and tacos on homemade tortillas that can be personalized with a variety of salsas and toppings
Bonsai Sushi, a full-service sushi restaurant offering delicious Asian-inspired delicacies – sushi, sashimi, rolls and more – all enjoyed amidst a contemporary Far East décor
WaterWorks, highlighted by Green Thunder, the steepest and fastest water slide at sea, as well as the line's signature Twister slide full of exhilarating twists and turns and a spray park
Hasbro, The Game Show, where guests are part of the show through a series of larger-than-life productions and entertainment activities based on the company's iconic and popular games
Playlist Productions, builds upon Carnival's reputation for high quality entertainment, combining captivating live performances and high-tech special effects, all set to popular and recognizable songs
EA SPORTS Bar, a sports and video game lovers' paradise where guests can catch live sporting events, check out scores on the real-time 24/7 sports ticker, and play the latest EA SPORTS games on a 16-screen video wall
BlueIguana Tequila Bar, a fun and festive outdoor watering hole offering a laid-back Mexican-themed atmosphere and tequila-based frozen drinks and beers, perfect for chillin' by the pool
Alchemy Bar, a vintage-themed cocktail "pharmacy" that's the go-to spot for guests seeking a unique experience with mixologists who "prescribe" concoctions from different elixirs and ingredients or guests' own custom-created cocktails
RedFrog Pub where guests can enjoy the Caribbean's best rums and beers – along with Carnival's own ThirstyFrog Red private label draft brew – and island-inspired pub fare while soaking up the distinct British-West-Indies-meets-Key-West ambiance
RedFrog Rum Bar, a poolside adaptation of the RedFrog Pub offering the quintessential Caribbean vacation vibe with refreshing Caribbean rum-based frozen drinks and beers, including Carnival's own ThirstyFrog Red
The Library Bar, a warm and cozy venue offering self-serve wine dispensers and full bar service for those seeking a more intimate spot for before- or after-dinner drinks
Cherry On Top, which celebrates the joys of simple indulgences with bins of bulk candy, fun fanciful gifts and novelties, custom apparel and more
Special 14-Day Repositioning Cruise from Tampa to Baltimore
Prior to its Baltimore deployment, Carnival Pride will operate a 14-day repositioning cruise departing Tampa March 15 and arriving Baltimore March 29, 2015.
The special one-time voyage will feature six magnificent seaside destinations throughout the Caribbean and Central America, including George Town, Grand Cayman; Limon, Costa Rica; Colon, Panama; Aruba; Curacao; and St. Maarten, Netherlands Antilles. Each of these destinations offers gorgeous beaches, interesting historical sites and myriad dining, shopping and sightseeing opportunities. Optional excursions to the spectacular Panama Canal will be featured during the call in Colon.