Administrator
Staff member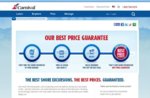 Guests sailing on a Carnival cruise who book a shore excursion through the cruise line can be completely confident they are getting the best price and best value with the introduction of a new shore excursion best price guarantee. The only guarantee of its kind in the cruise industry, the program is now available fleetwide for all Carnival Cruise Lines shore tours on ships sailing from North America.
Under the best price guarantee, guests who find the same tour offered by another operator at a lower price than their booked excursion either before or during their cruise can complete a claim form to receive 110 percent of the difference in the form of a shipboard credit.
The guarantee is available for excursions booked prior to or during a cruise. If guests pre-book an excursion, then find a comparable tour advertised online at a lower price, they can complete an online form up to seven days prior to the cruise to invoke the guarantee. Guests can also complete a form during the cruise either before or after their excursion has taken place. Claims are typically processed within 24-48 hours.
Guests who book their excursion through Carnival enjoy the convenience of having shore excursion tickets delivered to their stateroom, 24/7 access to shipboard staff to answer questions and obtain assistance, and an assurance that they will receive a refund or the excursion time will be adjusted as needed based on weather or other issues affecting a ship's scheduled port of call visit. Additionally, ongoing communication between tour operators and shipboard staff ensures that the cruise line is aware and can make necessary changes to a ship's departure time when a tour is running late or unexpected circumstances arise.
The online and onboard claim forms require guests to provide the name of the competitor offering the comparable tour, excursion name, where the tour was advertised and the duration, price and any items included in the tour such as lunch, drinks, transportation or admission fees.
The best price guarantee is applicable to shore excursion matches on the same date as the tour purchased from Carnival.